This is going to a quickie Random Thursday. I know there are lots of great shows this season, but here are my TOP 4s. And yes some of them are fashion-related. That's why I love them. No judgement.

MY FALL TV LINEUP...
1. GOSSIP GIRL - Last Season Ever (or is it?)
B & S sporting great numbers for this episode.
My ultimate guilty pleasure. You may hate them but like GG says, you know you still love her/them/it. It's the world of the upper eastsiders coming back more juicy, more dramatic and more convoluted than ever. The questions still remain the same and they BETTER be answered else I'm going to go shoot myself in the head as to why I watch this show.
Will Blair and Chuck just get together already?
Can Serena ever clean up her act and just be normal and likable?
Is it too late for Dan not to become more of a douche?
Is there still hope for S and D?
Will Jenny ever come back?
And why is Georgina still around?
WTF Charlie and Rufus?!
Can't wait for the fashion rivalry between Blair & Serena. Lots of style inspirations from this one.
2. SMASH - Season 2
First and foremost, hy aren't more people watching this?!?!?! This show is stacked - with Steven Spielberg as the producer and Katherine McPhee as one of the main characters. I would describe this as the adult version of GLEE. Katherine's amazing vocal chords, the glamorous fashion, the captivating drama...how can you not love it?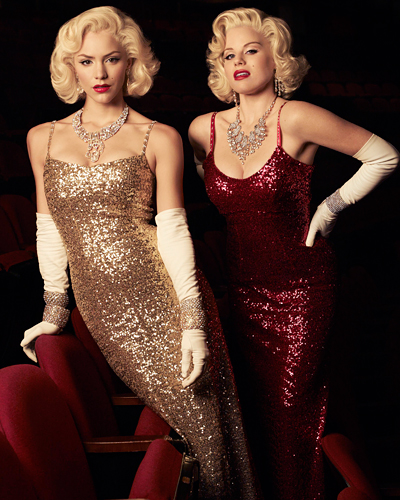 Oh they make such beautiful Marilyn Monroes. Love the look. (Photo from Instyle)
Interview with the SMASH cast.
3. ELEMENTARY - New Season
This is a new show based on the classic Sherlock Holmes series, except Lucy Liu is starred as Watson. I think Lucy Liu kicks ass and I can't wait for her to kick some butt in this one. Not sure what to expect but I'm hoping this will do the classic SH justice since I love and read all of the SH series. Check this out!
Oh I'm loving the accent. Johnny Lee Miller woot woot! Who knew Sherlock had sexy abs?!
4. GLEE
What is happening with the new GLEE after most of the GLEEsters have graduated and moved on? Oh the suspense. Sue's cynicism? Oh I just can't wait.
Looks like Rachel's got some competition!
There are tonnes of great shows coming out, but these are my top 4 that I'm most looking forward to and are intrigued about. There are so many shows, so I have got to prioritize!
What are some shows YOU are looking forward to?
-Cecilia